Stepping onto the stage in a micro bikini competition is not just about showcasing months of hard work and dedication to your physique; it's also about selecting the right competition suit that complements and enhances your body type. The perfect bikini can be the final touch that catches the judges' eyes. Here's how to choose the best micro bikini competition suits tailored for your unique silhouette.
Understanding Body Types
Before diving into the dazzling world of sequins and sparkles, let's address the foundation: body types. While every competitor has their individual shape, most fall into one of the following categories:
Hourglass: Characterized by balanced shoulders and hips with a narrower waist.
Rectangle: Often referred to as the athletic build, with shoulders, waist, and hips roughly the same width.
Pear: Wider hips than shoulders, with a fuller bottom half.
Apple: Broader shoulders and waist, with narrower hips.
Inverted Triangle: Broad shoulders that taper down to a narrower waist and hips.
Hourglass Figures
If you're blessed with an hourglass figure, balance is your best friend. Your suit should highlight your symmetrical proportions without overwhelming them. Opt for a micro bikini with crystal embellishments along the waistline to accentuate that classic nipped-in look. Bottoms with side ties can enhance your curves and maintain that coveted balance.
Rectangle Figures
For the athletic, rectangle-shaped competitor, the goal is to create an illusion of curves. This can be achieved with bikinis that have ruching or gathering at the top and bottom, adding volume and dimension. Choose bottoms with a curved cut to soften your angular lines, and don't shy away from bold prints that can break up the straight lines of your physique.
Pear Shapes
For pear-shaped competitors, the key is to draw the eye upward. A micro bikini top with dramatic embellishments or a striking color can help achieve this. Opt for darker, solid-colored bottoms to slim your lower half, and consider a high-cut style to elongate your legs and accentuate your waist.
Apple Shapes
If you have an apple shape, your focus should be on creating the appearance of a longer, leaner torso. High-waisted bikini bottoms can help to provide this effect, especially when paired with a plunging neckline or a detailed halter top that draws attention to your shoulders and chest.
Inverted Triangle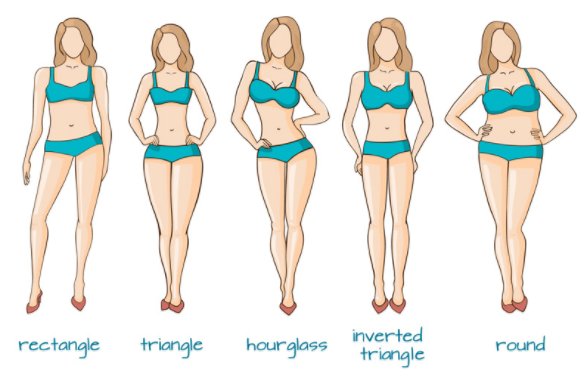 With broader shoulders, you'll want to balance your lower half with your upper body. Micro bikinis with less coverage can actually work in your favor, as they can minimize the width of the shoulders. Pair this with a fuller bottom to give the impression of wider hips, creating a more balanced silhouette.
General Tips for All Competitors
Color Matters: The right color can make your skin tone pop and complement your hair and eye color, which is vital under harsh stage lights.
Connectors Count: Pay attention to the connectors on your bikini. Intricate designs can add a luxurious touch, but ensure they don't cut into your skin, creating unflattering lines.
Sparkle Strategically: Crystals and sequins should enhance, not distract. Please place them in a way that guides the judges' eyes to your best features.
Fit is Fundamental: Above all, ensure your micro bikini fits flawlessly. It should be snug but not dig into your skin, and it should move with you without the risk of slips or gaps.
The ideal micro bikini competition suit is the one that not only fits your body type but also your confidence level. It's the armor you don on the day of the battle, the one that says, "I am here, and I am ready to shine." So, choose wisely, highlight your strengths, and let your confidence radiate as brightly as your bikini.
Frequently Asked Question:
How should a micro bikini competition suit fit?
A competition suit should fit like a second skin. It should be snug enough to stay in place during your poses and routine, but not so tight that it digs into your skin or causes bulges.
Make sure there's no gaping in the top and that the bottoms cover everything they need to without risk of slipping.
What colors work best for bikini competition suits?
The best color for your bikini will depend on your skin tone, hair color, and the lighting of the competition. Generally, you want a color that contrasts well with your skin to stand out on stage.
Jewel tones like sapphire, emerald, and ruby can be particularly striking, as can metallics like gold and silver. It's often recommended to have a professional color consultation to find your ideal shade.
How do I know which bikini competition suit is best for my body type?
The best bikini suit for your body type is one that flatters your specific shape. For hourglass figures, balanced designs work best. Athletic or rectangle shapes should look for bikinis that create curves, while pear shapes benefit from styles that draw attention upward.
Apple-shaped individuals should aim for suits that elongate the torso, and inverted triangles should balance their upper body with their lower half. Always ensure the suit accentuates your best features and fits your body snugly without digging into the skin.